This service is provided through Corporate Bodies
If you want happy, healthy, engaged and loyal employees, invite Corporate Bodies to your workplace. Providing the highest quality professional corporate massage service since 1999 to clients throughout Australia and New Zealand, we'll have your staff de-stressed, refreshed and ready to work hard!
Massages at work are proven to improve employee productivity, engagement and retention. With the costs of sick leave ever increasing, massage is a cost-effective and efficient way to energize and motivate your employees while reducing stress and back problems.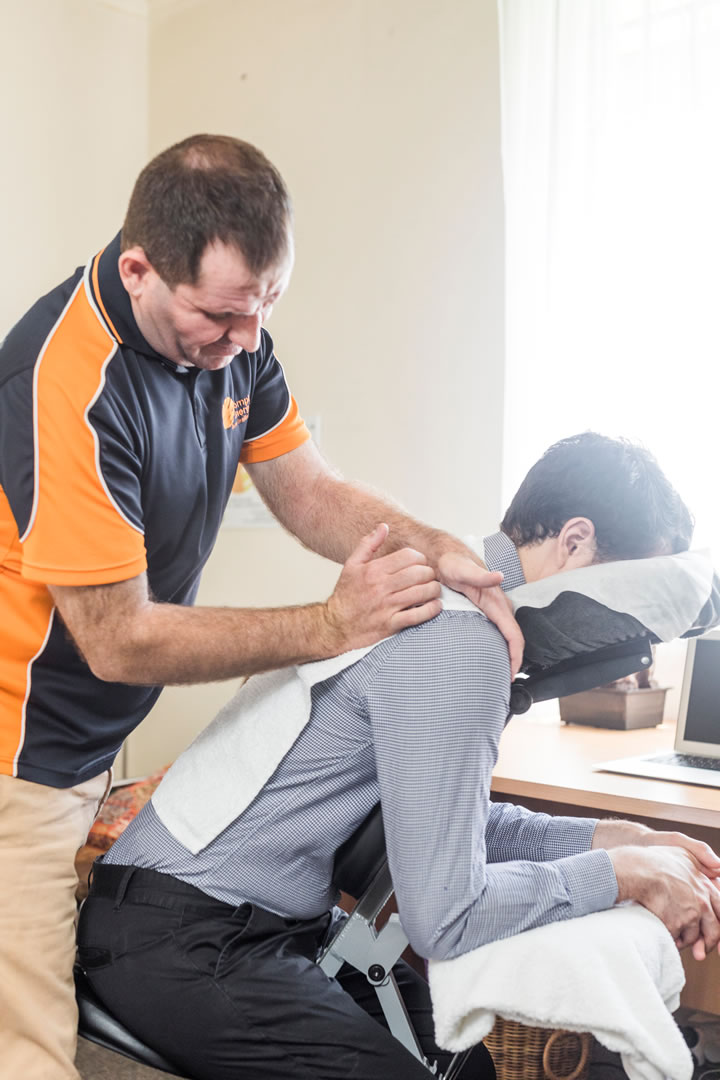 To revitalize your employees contact us today!

Employee benefits such as massage, yoga and regular fresh fruit are proven ways to create a positive work environment and motivate staff. For a small investment you'll have happier and healthier employees who want to stay with you and go the extra mile for you.
Reenergize your employees without them even leaving their desks. Corporate Bodies professional massage therapists use specialist massage chairs to give a fully clothed neck and shoulder massage in 5 to 30 minutes at a desk or in a meeting room.  That small amount of time out can help to reduce time lost through stress, back and neck problems and low morale.
After a Corporate Bodies massage employees are smiling and reenergized, and productivity improves! And that can only help your bottom line.
How Does It Work?
We come to your business location
Massages are at the desk or in a meeting room/ private  area
Massages take 5, 10, 15, 20 or 30 minutes
Flexible scheduling options and an on-line booking system
Choice of payment options to fit your organization's needs.
What happens?
No clothing is removed and we don't use oil.
We massage at the employee's workstation, or in a meeting room if you prefer
We use an ergonomic massage chair to give support and make the employee relaxed throughout the treatment.
We provide headphones with relaxing music
After the massage, we use a re-energizing essential oil facial spritz. Time to wake up and get back to work!
For all queries relating to corporate massage, please contact Kurt on Freecall: 1800 355 998 or email info@corporatebodies.com